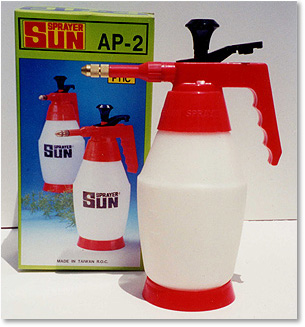 The Sun AP-2 is a portable, automatic, air-compressed, and hand-operated sprayer, used by the professional or for home use. It is ideal for professional weed control.

Its multi-purposes include garden spraying-weed and pest control, liquid fertilizing, plant leaf polishing, window-glass cleaning, wallpaper removing, and other applications used in agriculture and horticulture.

The AP-2 is not a sprayer that you use once or twice and then throw away. It will last for many years with proper maintenance.


- The body is made of top-grade high-tensile poly plastics, resistant to chemicals, pressure, corrosion, impact and cracking.

- It is easy to operate. Once fully pumped, the pressure suffices for spraying the entire contents.

- The on and off trigger located on top of the handle operates instantly with a light squeeze and can be set for continuous spraying.
- The tank wall is translucent, marked with metric scales to show the precise quantity of formula contents when being filled.

- Safety valve with pressure-control gauge as installed inside allows automatic release of the over compressed air and assures higher safety during operation.

- The precision-made nozzle-tip is adjustable for straight stream flow to foggy spray, light or heavy, at your own choice.